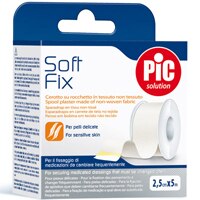 PiC Solution Soft Fix
Dressing for delicate skin that needs frequent changing
Soft Fix, the non-woven fabric spool plaster, is particularly indicated for the application of dressings on delicate skin that need frequent changing.
The non-woven backing lets the plaster adapt to different parts of the body. This material, used with a special adhesive, makes the plaster highly breathable and offers excellent skin tolerance.
Soft fix adheres to any part of the body. It has long-lasting adhesive properties and guarantees pain-free removal. It can be easily cut whithout scissors and is easy and practical to apply thanks to the spool indicator that shows where the plaster starts.