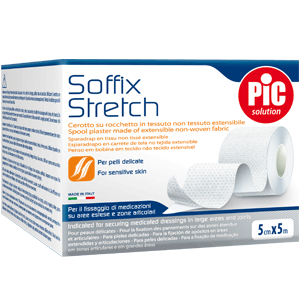 PiC Solution Soffix Stretch
Highly breathable and excellent skin tolerance
Soffix Stretch, the non-woven stretch fabric plaster roll, is highly breathable and offers excellent skin tolerance. It can be easily cut to size and is highly stretchable, making it ideal for the application of dressings on joints and large areas, and guaranteeing pain-free removal.
The non-woven backing makes the plaster soft and gentle, so it can adapt to the irregularity of body surfaces. The adhesive is hypoallergenic.
Available in a wide range of sizes, the plaster is suitable for the application of dressings even after operations.