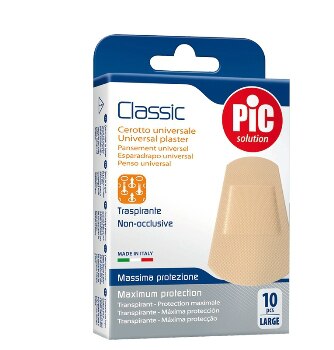 PiC Solution Classic Plasters
Breathable, elastic and water resistant
As part of the restyling process of the entire range of plasters, Pic Solution presents its new CLASSIC family of plasters: with a special treatment to improve adhesion.
The Classic plaster, designed with a special POLYETHYLENE backing, is equipped with three-dimensional pores that guarantee the MAXIMUM PERMEABILITY of air and vapour, at the same time protecting the wound from bacteria.
Polyethylene is a naturally 'plastic' material, which is soft and flexible without any chemical additives which are harmful to health and environment. PVC plasters are available on the market and although they are very resistant and stronger than polyethylene they are far less flexible and adaptable, and, most importantly, contain chemical substances to make them softer and more flexible, which are classified as toxic and harmful for the environment.
Why Choose 3D Polyethylene?
3D polyethylene has multiple, cone-shaped pores, placed very close to each other. With this special structure, 3D polyethylene guarantees:
MAXIMUM WOUND PROTECTION from bacteria: external pores are extremely small, preventing bacteria penetrating the wound.
MAXIMUM BREATHABILITY: internal pores are larger, letting air penetrate the wound and sweat escape.
EXTREMELY STRETCHY: the backing can stretch up to 500% without tearing.
MAXIMUM SAFETY for health and environment.
EXTREMELY RESISTANT, even against water.
The Benefits of Classic
CLASSIC plasters, for normal skin, are extremely breathable and particularly adaptable, ideal for small cuts to the fingers or other highly mobile parts of the body.
Highly breathable.
Elastic and extremely adaptable.
Water resistant.