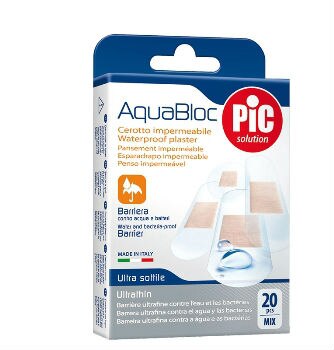 PiC Solution Aquabloc Post-Op Plasters
Ideal for treating large and post-op wounds
Pic research has created a safe waterproof strip plaster perfect for use in protecting larger and post-operative wounds.
These strips are larger in size which therefore makes them an ideal plaster for treating major traumatic or surgical wounds of origin, when it is essential to protect against the exposure to water (eg swimming, the sea, in the shower).
The Benefits of Post-Operative Aquabloc Plasters
Invisible, impalpable The Aquabloc postoperative dressings are ultra-thin and invisible thanks to their special polyurethane film.
Sterile
Impermeable barrier against water and bacteria.
Airy
Long lasting It is possible to remain on the skin for several. The new dressing Aquabloc has the distinction of being able to use in all situations where the skin is warmed or sweats, those who put the adhesive to the test, as when we go to the pool, to the sea, when taken showers or hot baths, etc….
Adaptable on even the most difficult areas of the body.